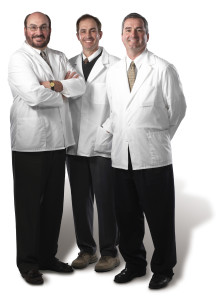 You might say that orthodontics is in our blood. Our father, Andrew, founded Haas Orthodontic Arts more than 50 years ago. Today three of his sons, Roger, Mark and Eric, carry on the family tradition of providing exemplary orthodontic care in Stow, Cuyahoga Falls, and Akron/Canton.
The three of us have extensive experience and training in orthodontic treatment. We are committed to using the best techniques, including the latest technologies in orthodontic care, to ensure a stable, long-standing result. We want you to be proud of your "Haas smile" for years to come.
As a Haas patient, you have the flexibility to see any one or all of our orthodontists. This flexibility gives you the built-in advantage of a second opinion, so you can feel confident in your treatment plan. Because we have three locations throughout northeast Ohio, including offices in Cuyahoga Falls, Stow and Akron/Canton, there's sure to be an office near you.
Just as we are carrying on the family tradition that began with our father, for some families, becoming a patient of Haas Orthodontic Arts is a family tradition, as we frequently treat multiple members of the same family – whether it's brothers, sisters, cousins, aunts or uncles. Many of our former patients are now bringing their children to us – a testament to the outstanding care they received.
We hope you consider Haas Orthodontic Arts for your orthodontic care. We will develop an individualized treatment plan for you and present all the options so you can make the best decision about your care. We will also help you navigate the sometimes complex world of orthodontic insurance. We want to make the entire process as satisfying and rewarding as possible. That's our commitment to you. Request a consultation today and invest in a smile you can be proud of for a lifetime.